Beachcomber Reporter Dies Following Traffic Accident
(Long Beach, CA – Jan. 12, 2019) Sean Christopher Belk, a reporter for the bi-weekly Beachcomber newspaper in Long Beach, died Friday evening following a collision at Broadway and Obispo Avenue. Long Beach Police officers were dispatched to the scene at 8:36 p.m. and the preliminary investigation indicated it was a head-on collision.
Belk, 36, was transported to Memorial Medical Center and "did not survive the severe injuries sustained," according to the LBPD. Seeking to notify next of kin, the hospital contacted friend and fellow Beachcomber reporter Kirt Ramirez – who resides in the same apartment building as Belk, which is one block from the accident scene. Ramirez said that Belk was like a brother and that he "will miss him dearly."
According to information received from the LBPD "The driver of the other vehicle had a valid license, stayed at the scene and cooperated with the investigation. There was no indication that drugs or alcohol were a factor and the investigation remains ongoing. Anyone who may have information regarding this incident is urged to call Long Beach Police Department Collision Investigation Detail Detective David Whelan at (562) 570-7355."
The recipient of many student journalism awards, Belk received an AA degree from Long Beach City College in 2005, followed by a BA in communications from CSU Fullerton in 2009. He worked for the Long Beach Business Journal and the Signal-Tribune newspaper in Signal Hill before joining the Beachcomber staff in August 2016, specializing in government and business reporting. At the time of his death he was working on a story about the former Boeing C-17 assembly facility for the paper's Jan. 18 edition.
"Sean Belk was a master of his craft and will be greatly missed by all of us on the Beachcomber team," said Publisher Jay Beeler. Belk was joined by fellow journalists and staff at the publication's Christmas party on Dec. 16; it would be their last time together.
Belk is survived by his parents, Donald and Iva Belk of Westminster, and younger brothers Michael and Johnny.
Another Beachcomber reporter died in 2015 after taking photos of the May 17 Pride Parade in Downtown Long Beach. Freelancer Michael Sandow, 69, was believed to have suffered a diabetic seizure and fell, hitting his head on the sidewalk and suffering head trauma. He died eight days later at St. Mary Medical Center.
Contact: Jay Beeler
562-597-9000
jay@beeler.co
#   #   #
Local Businesses Invited to Attend
"Long Beach's Largest Networking Mixer"
(Long Beach CA, August 21, 2018) – Mark your calendar for "Long Beach's Largest Networking Mixer" on Thursday, Oct. 4, 5:30 to 8:30 p.m. at The Grand, 4101 E. Willow Street in Long Beach. Admission is free and open to business networking organizations, chamber of commerce members, service club members and others wanting to promote their goods and services to other businesses in Long Beach.
Sponsored by the Executives Association of Long Beach (EALB), the oldest, local networking organization – founded in 1922 – there will be complimentary refreshments for early attendees in the first half hour – courtesy of The Grand – and complimentary hors d oeuvres provided by TGIS Catering.
The 7:30 p.m. speaker will address "How to do business with the Port of Long Beach" featuring Jocelin Padilla, community relations specialist with the Port.
Local businesses wanting a table at the mixer to display their wares may do so for a $50 fee, provided there's no classification conflict with an existing EALB member participating in the event. Call or email Eric Speier at (310) 600-9668 or eric@sedev.com if interested in exhibiting at this function. Sign-up deadline is September 25.
Opportunity drawings for five unique gift basket packages will be held throughout the evening. Each is valued at $500 or more. Drawing ticket sales and table sales will help offset expenses for this free event.
For additional details, contact EALB Executive Director Steven Caudillo at (562) 663-6416 or email longbeachexecs@gmail.com. Visit www.longbeachexecs.com to learn more about the organization or see a list of open membership classifications.
#   #   #
Media Contact:
Jay Beeler
562-597-9000
jay@beeler.co
Public Invited to Don Temple Storage
50th Anniversary Celebration
(Long Beach CA, May 18, 2018) – Don Temple Storage is celebrating 50 years of being in business on July 7, 2018. A party is planned at the Long Beach Police Officers Association Park at 7290 E. Carson St., behind Walmart and Lowe's in the Towne Center Shopping Center, from 10 a.m. to 2 p.m.
There's going to be music from the Elm Street Band, a classic rock 'n' roll ensemble that covers a wide range of songs, as well as BBQ hot dogs provided by the LBPOA, shaved ice, treats and refreshments. This is a free event for the whole family as there will be games, contests, kid activities, door prizes and gifts.
"This celebration will be more about thanking the residents of Long Beach for their support over the past 50 years," said current owner Sumer Temple. "Afterward we are giving away a flat-screen television and a laptop computer that will be playing a video of Don's story during the event," she added.
Founder Don Temple first opened the business on July 7, 1968 at 3750 E. Spring St. adjacent to the Long Beach Airport. It was the first self storage facility to open in Southern California. In its early years it had more than 200 storage units available, but after adding nine other locations it has served more than 100,000 customers who store RVs, boats, motor vehicles or rent the self-storage units in varying sizes.
Don Temple passed away in March 2013 after he established the Don Temple Family Charitable Foundation. The foundation regularly donates to local charities, focusing on healthcare, children, education and the arts.
"Don started this foundation because it was important for him to give back to the community that rented storage units from him in the past," said Marlene Temple, his wife of 14 years who serves as president of the foundation.
The storage facilities will be closed during the celebration to allow employee and customer participation. For additional information, call the Don Temple Storage office at (562) 426-5555 or visit www.dontemplestorage.com.
#   #   #
Contact: Jay Beeler
562-597-9000
jay@beeler.co
Need an Extra Hand?
Local colleges are seeking internship opportunities for their upper-class communications students and we've come up with a plan to address that need.
Over the past few decades Beeler & Associates and the Beachcomber newspaper have been working with more than 150 CSULB, CSUDH and CSUF journalism and public relations students in need of 100-120 hours work experience to complete graduation requirements in an approved internship program.
If we had more projects for these interns we could double our capacity to work with more than our current two students per semester. We have the facilities and experience to supervise their work on your behalf if you would like to give them a chance and possibly consider them for employment upon graduation.
Your commitment over a five-month period would be $400 per month (50% more during summer months) and your communications-oriented projects or special events would be seen through completion under supervision from an experienced professional. There is no other requirement except for occasional progress meetings to obtain your feedback and approvals.
Give me a call at (562) 597-9000 if you'd like to discuss this in greater detail. Thanks.
Contact: Jay Beeler
jay@beeler.co
New EALB Board
(Long Beach, CA – Feb. 25, 2018) The Executives Association of Long Beach's 2018 President's Installation Dinner is planned for Monday, March 5, 6 p.m. at The Grand Event Center, 4101 E. Willow St.
Being installed is President Kris Gragson of GK Media, Vice President Jennifer Sawday of TLD Law and Secretary/Treasurer Jay Beeler of Beeler & Associates. Directors are Rusty Deeble, Digital Installers; Tom LeLeo, Alpine Mortgage; Vince Bunting, C.H. Topping Brakes; Kimberly Rodgers, Jungle Promotions and Corey Vane, A-Throne. Machelle Thompson of Keen Home Care is the past president.
The dinner cost is $15. RSVP to Kellie Sherrill, longbeachexecs@gmail.com or text 310-780-1462.
Founded in 1922, EALB is an exclusive and highly selective association of businesses represented by the decision maker of each business. Info: www.longbeachexecs.com.
#     #     #
Contact: Jay Beeler
562-597-9000
jay@beeler.co
Pending RV Ban Leaves Owners with No Place to Go
(Long Beach, CA — Oct. 25, 2017) An ordinance proposed by the Long Beach City Council that's pending before the California Coastal Commission would put 2,458 recreational vehicle (RV) owners in a bind according to research commissioned by Don Temple Storage in Long Beach.
Long Beach-based Beeler & Associates conducted a study on behalf of Don Temple Storage and determined there are only 3,220 spots available for the 5,678 RV households in both the 908XX and 907XX ZIP code area, which contains 12 RV storage facilities available to the public.
That study demonstrated that all 12 facilities are at or near capacity, despite a claim by one council member, who said that the city of Carson "has lots of availability" and encouraged residents to contact her office for a list, which was never produced after multiple requests.
Sumer Temple, owner at Don Temple Storage, said that "While I see the need for a consistent RV street parking ordinance I also have to ask what comes next? We are almost at full capacity citywide on RV and boat spaces. I'm asking the city council to think to the next step after the ordinance is passed, because the lack of spaces available is only going to get worse."
She noted that high land values make it unfeasible for private investors to build more RV storage facilities and get a return on their investment, adding that the city does own land at Long Beach Airport that could be leased to operators for RV storage purposes, which would help to alleviate the problem.
Vehicles that exceed 85 inches high, 80 inches wide or 22 feet long would be prohibited from residential street parking under the proposed law. Typically those include RVs and boats with trailers.
Nick Walker, a senior vice president with the CBRE self storage advisory group, stated "When a group of residents or a city official is biased against self storage development, it's usually because they're uninformed. Some municipalities continue to see self storage circa 1980." CBRE Group is the world's largest commercial real estate services and investment firm.
There is a trend among cities nationwide to prohibit residential parking of RVs for aesthetic and safety reasons. Another trend is growing ownership of RVs – as much as 8.5 percent of U.S. households – according to the Recreational Vehicle Industry Association in Renton, Virginia.
Don Temple Storage at 3750 E. Spring St. in Long Beach was the first self-storage facility in the Los Angeles basin, founded in July 1968 through the pioneering efforts of Don Temple, who passed away in March 2013. His daughter, Sumer, is the new owner. Next year the company will be observing its 50th anniversary.
#   #   #
The Facts on RV Storage Capacity
in the Greater Long Beach Area
Introduction
On June 13, 2017, Long Beach council members passed a motion to amend current municipal code section 10.24.078 to "prohibit parking of oversized and recreational vehicles on city rights-of-way within residential neighborhoods." The California Coastal Commission must review and certify the ordinance before the city council approves it.
Vehicles that exceed 85 inches high, 80 inches wide, or 22 feet long would be considered oversized under the law, a change from the current 20-foot-long rule. Typical oversized vehicles include RVs, boats and trailers with equipment on or attached to them.
Councilwoman Suzie Price spearheaded the ordinance, stating "We know that there is RV [parking] availability… Carson has lots of availability right now." Multiple attempts to get a list of such facilities went unanswered.
In August, Don Temple Storage in Long Beach retained the services of Beeler & Associates (B&A), a Long Beach-based marketing communications firm, to examine the availability of RV storage facilities in the greater Long Beach area. Don Temple Storage was the first self storage facility in the Los Angeles basin, founded in July 1968, and will be observing its 50th anniversary in 2018.
B&A Research on RV Storage Availability
Note: Data provided by 2016 US Census Bureau household statistics in comparison with online commercial data sources for RV households.
US Households: 135,697,926
RV Households: 989,425
Percentage:       6%
CA Households: 14,060,525
RV Households: 286,686
Percentage: 9%
LA Co. Households: 3,520,627
LA Co. RV Households: 38,257
Percentage: 1%
LB Households:          176,032
LB RV Households: 2,178
Percentage: 2%
In the greater Long Beach area, encompassing ZIP Codes 908XX and 907XX, there are a total of 5,678 RV households. 907XX includes the cities of Carson, Lakewood, Bellflower, Cerritos, Cypress and other communities contiguous to Long Beach.
B&A surveyed RV storage facilities within the above geographic boundary and counted 3,578 storage spaces among the 12 such facilities open to the public. Of those spaces, approximately ten percent were used for boat and/or boat trailers, leaving 3,220 spots open for RV storage purposes.
Key Finding: Subtracting the 3,220 local spots open for RV storage from the 5,678 local RV households, leaves 2,458 RV owners with no other place to park their vehicle except their own driveway.
Most of the RV spots in the study demonstrated that all 12 facilities were operating at or near capacity. They maintain a long waiting list of interested customers, according to phone interviews.
Self storage trade areas are typically a three-mile ring within a minimum population of 50,000, according to a recent CBRE Self Storage Construction Report. CBRE Group is the world's largest commercial real estate services and investment firm.
RVIA Research
In 2011 the Recreational Vehicle Industry Association (RVIA) commissioned the University of Michigan to conduct its eighth national survey of RV owners. Their RV Consumer Demographic Profile revealed:
The typical RV owner is 48 years old
Their median income is $62,000
39 percent of RV owners had children under 18 living at home
RV owners aged 35-54 posted the largest gains in ownership rates, rising to 11.2 percent in 2011 from 9.0 percent in 2005
Ownership also edged higher among those aged 55 or older, rising to 9.3 percent from 8.6 percent in 2005
RVIA, based in Renton, Virginia, is the national association representing nearly 400 manufacturers and component suppliers producing approximately 98 percent of all RVs made in the United States.
Conclusion
Online news sources report that there is a growing trend among U.S. cities to ban RV parking on residential streets for both aesthetic and safety reasons. Concurrently the number of RV owners nationwide has grown to 8.5 percent of U.S. households, up from 8.0 percent in 2005, according to the RVIA.
Local land values make it unfeasible for private investors to develop more RV storage capacity in consideration of the fact that existing facilities are at or near capacity. A similar condition exists for the rental of storage lockers unless they are multi-level; there is growing demand for these facilities by the younger generation as well.
The Long Beach City Council's ban of recreational vehicles from residential streets is short-sighted in consideration of the fact that 2,458 RV owners have no alternative to parking other than their own driveway. The City of Long Beach does have the ability to lease some of its own land at Long Beach Airport to address the problem being created by its pending RV ban.
Don Temple Storage encourages the city to think beyond passage of the ordinance in that the problem will only get worse as demand for storage spaces increase.
#   #   #
'Fake News' About Queen Mary Sinking
(Long Beach, Calif. May 18, 2017) Dan Zaharoni states "The boat is not going to sink" in reference to recent headlines in major daily newspapers stating it would take $289 million to fix the Queen Mary or it will sink. He would like to call it "fake news" or "click bait" that followed a marine survey, commissioned by the ship's former operator, Garrison Investment Group.
Zaharoni is the chief development officer of Urban Commons, the leasehold owner for the Queen Mary property. Structural renovations to the 83-year-old vessel are part of the $250 million master plan proposed by Urban Commons to the City of Long Beach. They believe the best way to make the ship financially viable is to beef up the 65 acres surrounding the ship with more dining, shopping, concerts and adventures. The company bought the Queen Mary lease in April 2016 for 66 years.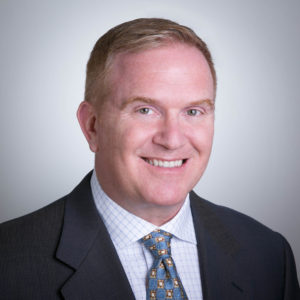 "The real number for repairs is closer to $50 million," he said, which includes $23 million in financing approved by the city for immediate work and four percent of the ship's $60 million annual revenue for the next 10 years.
He cited unrealistic "soft costs" of 70 percent in the $289 million estimate, when the typical cost is closer to 20-30 percent. Another $24 million was unrealistically added for a "dislocation fee" for Scottish engineers to perform the work, $17 million for coding versus $3.5 million actual and $21 million for demolition versus $4 million actual.
Zaharoni's comments were made at the Rotary Club of Long Beach's weekly luncheon meeting aboard the Queen Mary. When he said "The boat is going to be here for another 80 years and its going to be in good shape" the audience applauded.
"We're committed to making it an icon of the Long Beach community," he said. The Queen Mary is planned to be the centerpiece of an internationally known entertainment destination called Queen Mary Island, encompassing 45 acres of land and 21 acres of sea.
Improvements to the ship have been underway since April 2016 and painting of the shi is slated to being on July 10.
With a goal of attracting more youngsters and in cooperation with the Long Beach Unified School District, some 3,000 students have or will soon partake in STEAM, a classroom for learning about science, technology, engineering, art and math.
Beginning June 4, in conjunction with the Harold Robinson Foundation, 100 underprivileged kids, their parents and police will participate in a 48-hour weekend designed to build self esteem. The program has been underway in Watts and Compton for the past six years.
Some features of the planned Queen Mary Island include:
A 2,400 foot boardwalk around the entire ship that will eventually extend to the Hotel Maya, Reef Restaurant and Queensway Bridge.
A boat landing with a 31-slip marina and space for eight mega-yachts
A 7,000 seat amphitheater in Queen Mary Park for live music envisioned to include 200 nights booked annually with significant names and beautiful views of the Long Beach skyline
500,000 square feet of structures primarily devoted to entertainment, food and beverage, art, live music, energy and excitement
A first-of-its-kind in the United States 150,000 square foot "Urban Adventure" building with 20 different activities like kayaking, zip lining, sky diving, surfing, ice climbing wall, indoor canyon with waterfall, golf experience, trampoline park and more
A 200-room hotel to complement the 350 rooms currently on site
A gondola to the downtown area (such as Shoreline Village or the Aquarium) capable of handling 2,400 people per hour
Permanent jobs for at least 3,000 more employees, not counting construction workers
Plans are for Queen Mary Island to be completed in 2023, just before the 2024 Olympics, should they be awarded to Los Angeles.
"Our vision is to be a destination like Disneyland and Universal Studios," Zaharoni said. "This is a new day and our goal is to create entertainment for all ages."
#   #   #
Contact: Jay Beeler, Beeler & Associates, (562) 597-9000, LB Rotary Communications Director 2016-17 "Our 100th Year"
Scholarship Honors the 100-Year Anniversary of Rotary Club
(Long Beach, CA, May 12, 2017) At a special meeting of the Rotary Club of Long Beach, Rotary Scholarship Foundation Chair Jane Netherton announced that the recipient of the $15,000 Rotary Centennial Scholarship is CSULB student Yasmeen A. Azam. The luncheon meeting was hosted by Rotarian and CSULB President Jane Close Conoley at her home.
The one-time scholarship is the largest to be awarded by the Long Beach Rotary Scholarship Foundation in its 60-plus year history and is intended to commemorate the Centennial of the Rotary Club, the city's oldest service club. The current president is Jayne Lastusky to be followed in July 2017 by Steve Keesal.
Yasmeen A. Azam was selected for this competitive award by the Foundation's Board of Directors for her outstanding leadership qualities and her effective communication of her plans to positively impact society after graduation.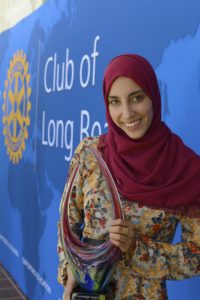 "The Long Beach Rotary Scholarship Foundation is excited to present an award of this size to such a deserving student leader to commemorate our centennial," said Foundation Chair Jane Netherton.
Ms. Azam has been a Youth Speaker at the United Nations and is currently the president of the CSULB Muslim Association. She was selected by President Conoley as Student Leader of the Year. Among Ms. Azam's campus leadership achievements is her organization of a "Muslims Against Hate" demonstration.
Additionally, she works with youth refugees at a social service organization and gives workshops about civic engagement at local mosques and community centers.
"Yasmeen's commitment to global peace is in alignment with the goals of Rotary International, making her an excellent choice for this scholarship," said Craig Cross, Long Beach Rotary Scholarship Foundation Vice Chair and head of the Scholarship Selection Committee.
Past Long Beach Rotary Scholarship Chair Craig Dougherty said, "This Centennial Award honors not only this accomplished and deserving student, but also the tireless work and generosity of Long Beach Rotarians who, for nearly 100 years, have strongly supported educational opportunities for students in our community."
The Rotary Club of Long Beach is the oldest service club in Long Beach the largest Rotary Club in District 532, and among the top 50 in the world. Chartered in 1917, the Rotary Club of Long Beach is comprised of approximately 300 Long Beach business and community leaders whose motto is "Service Above Self."
For more information about the Long Beach Rotary Scholarship Foundation: www.lbrsf.org.
For more information about the Rotary Club of Long Beach: www.rotarylongbeach.org.
###
Contact: Jay Beeler, Beeler & Associates, (562) 597-9000, LB Rotary Communications Director 2016-17 "Our 100th Year"
Local Coast Guard Sector "Always Ready"
(Long Beach, CA, March 31, 2017)  Captain Charlene Downey of the U.S. Coast Guard (USCG) will never forget the September 2014 call from a boat pilot who was docking at Marina del Rey. He stated that one of its four members had fallen overboard after leaving Santa Barbara Island.
"It was like finding a needle in a haystack or a coconut in the ocean," she told members of the Rotary Club of Long Beach at a recent luncheon meeting aboard the Queen Mary.
The responding Coast Guard Sector for Long Beach covers 350 miles along the California coast, from San Clemente to Morro Bay, extending 200 miles from the shore.
Joe Blushtein from New Jersey was the man who fell overboard while attempting to scoop a bucket of water for cleaning fish. His brother, Igor, was at the helm while the others slept below.
Drawing from their resources of four large cutters, three small boats, two helicopters and "scientific models" for situations like this, the Coast Guard began its search as Igor also back-tracked toward the island.
Brother Joe spent nearly seven hours fighting for his life in the frigid water. He could see the helicopters overhead and watched as the boats executed a back-and forth pattern.
He whistled and shouted at one of the small boats and was heard by a rookie enlistee. "It was like winning the Super Bowl when the command center was told he was found," Downey said.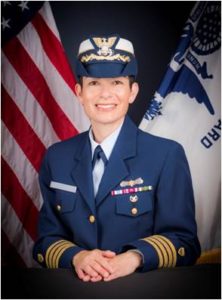 A native of Fort Wingate, N.M., Downey is a 1993 graduate of the U.S. Coast Guard Academy with a Bachelor of Science in management and Master of Science in 2000 from the Florida Institute of Technology.
Downey was promoted to commander of Coast Guard Sector Los Angeles-Long Beach in June 2016, a job that has broad legal authority for maritime safety, security and stewardship. She wears five hats as captain of the port, federal maritime security coordinator, marine inspector, search and rescue coordinator and federal onsite coordinator for incidents like the May 2015 oil spill off Santa Barbara.
"It really doesn't matter where I am stationed because of the great professionals in the USCG who are doing amazing work 24-7," she said, "I am proud to represent them."
The organization has about 36,000 active duty, 7,000 civilian and more than 7,000 reservists in their nine western-hemisphere districts, which are broken down into 39 sectors, such as LA-LB.
Downing states that the only function that is not performed locally is ice breaking.
Its federal budget is approximately $11 billion and, according to its website, on an average day, the USCG:
Conducts 45 search and rescue cases
Saves 10 lives
Saves over $1.2M in property
Seizes 874 pounds of cocaine and 214 pounds of marijuana
Conducts 57 waterborne patrols of critical maritime infrastructure
Interdicts 17 illegal migrants
Escorts five high-capacity passenger vessels
Conducts 24 security boardings in and around U.S. ports
Screens 360 merchant vessels for potential security threats prior to arrival in U.S. ports
Conducts 14 fisheries conservation boardings
Services 82 buoys and fixed aids to navigation
Investigates 35 pollution incidents
Completes 26 safety examinations on foreign vessels
Conducts 105 marine inspections
Investigates 14 marine casualties involving commercial vessels
Facilitates movement of $8.7B worth of goods and commodities through the Nation's Maritime Transportation System.
Founded in August 1790 as the Revenue Cutter Service upon the recommendation of Secretary of the Treasury Alexander Hamilton, it was renamed the U.S. Coast Guard in 1915.
Their slogan is "Semper Paratus – Always Ready."
Contact: Jay Beeler, Beeler & Associates, (562) 597-9000, LB Rotary Communications Director 2016-17 "Our 100th Year"
Hahn's Top Priority As Supervisor Is Aiding the Homeless
(Long Beach, CA Jan. 14, 2017) Janice Hahn is following in the footsteps of her father by becoming the 4th District Supervisor for Los Angeles County. Last month she was sworn in by her brother, Judge Jim Hahn, in the county building named for her father in recognition of his 50 years in public office.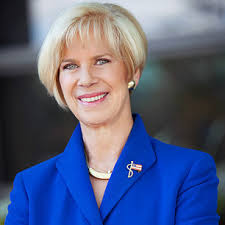 Previously the Democrat served five and one-half years in the US House of Representatives with the Port of Los Angeles within her district. "I enjoy non-partisan local government," she told Long Beach Rotarians at the Jan. 11 meeting on the Queen Mary. "Congress was difficult to forge a common bond with people across the aisle and in 2011 it was the most politically gridlocked congress seen in some time."
A member of the Rotary Club of Lawndale, she said "I try to apply Rotary's 4-Way Test to everything I do. But in Congress they failed. It was never the truth, it was never fair to all concerned, never brought goodwill and certainly not beneficial to all concerned."
Hahn described the County of Los Angeles as the "safety net for those who have no place else to turn, who have reached the end of their rope physically, emotionally, financially, emotionally. We exist to make sure people don't fall through the cracks."
Homelessness is the number one, priority issue for Hahn, along with traffic and public safety. "Forty-seven thousand homeless people were sleeping on the streets of Los Angeles County last year. This is a problem that I want to focus on. If we had a flood, fire or earthquake, we would be helping 47,000 people who were displaced," she said, adding that the agencies that address the problem are overwhelmed.
A few weeks ago county supervisors voted to place a quarter-cent sales tax on the March ballot, which would raise $355 million annually to help non-profit organizations get these people off the streets permanently. Hahn said the money would go for housing, mental health, foster kids in transition and similar programs.
Hahn agreed with Long Beach Mayor Robert Garcia, who in his Jan. 10 State of the City address stated "Every person on the streets has a name and they need to be treated with dignity and respect." She pledged to try to solve the homelessness problem within her first four years.
During the Q&A session one local retailer pointed out that LA County's sales tax would be at 10.25 percent on July 1, compared to Seal Beach at 7.75 percent, creating an economic disadvantage to retailers in Long Beach. It was suggested that it would be better redirect other funds versus raising sales tax, but Hahn said it would be up to the voters to decide.
When queried about the incoming Trump administration she noted: "I'm just so happy that I'm not there. My timing was impeccable. We have a very divided country. We might have the same goals, just two different ways to get there."
Hahn would like to see Trump fix the infrastructure in this country, like the 70,000 deficient bridges that exist, as well as take on tax reform.
"I'm going to give him a chance to do the things this country is crying out for and I wish him well," she said.
Contact: Jay Beeler, Beeler & Associates, (562) 597-9000, LB Rotary Communications Director 2016-17 "Our 100th Year"
Beck to Become 103rd President of the Rotary Club of Long Beach
(Long Beach, CA Dec. 28, 2016) Mollie Beck was recently announced as president-elect nominee of Long Beach Rotary. She will follow Steve Keesal (2017-18 president) and Gail Schwandner (2018-19 president) to become the 103rd club president in 2019-2020.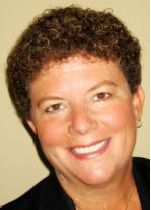 Beck works in real estate with her husband, Larrry, at The Beck Company of Coldwell Banker Beachside in Long Beach. An ordained minister who graduated from Cal Poly in horticulture, she has been an EMT, police reserve, investigator for city attorney, workers comp insurance adjuster and in real estate since  2000.  Beck has been a member of Long Beach Rotary since 2002.
Long Beach Rotary is observing its centennial year in 2017. It was the 334th club inducted to Rotary International on Nov. 1, 1917, is a service and leadership club which allows community professionals to collaborate on service projects, scholarship foundations and community events. With approximately 320 members, Long Beach Rotary is the largest club in Rotary District 5320, which encompasses Orange County and Southeast Los Angeles County. As of 2014, Long Beach Rotary was ranked among the top 50 Rotary clubs in the world.
Contact: Jay Beeler, Beeler & Associates, (562) 597-9000, LB Rotary Communications Director 2016-17 "Our 100th Year"
New Beachcomber Website, Free Online Ads, Rates Reduced 20%
(Long Beach, CA Dec. 17, 2916) We are pleased to report that our new website is up and running, offering numerous opportunities for your organization to gain maximum exposure in the greater Long Beach area. In conjunction with this, our print advertising rates have been lowered by 20 percent.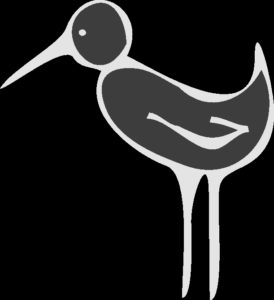 Additionally any print advertisements in the Beachcomber will qualify for a free online ad that will connect with your organization's website. This offer applies to a consecutively run ad frequency of four-times or greater contracted to run in 2017, which will qualify you for a proportionately-sized online free ad. Print and online ads will run concurrently during any two-week time period. The free online ad sign-up deadline is January 31, 2017 (good for up to 26 issues next year) so that we may populate the new website with various-sized ads – like yours. We'll prepare your online digital ad at no charge.
The new Beachcomber website features:
Breaking news with alerts sent to our 2,500 email subscribers, as well as links to all our Facebook and Twitter followers who will receive local news stories as created and posted.
Reader comment section below news stories as well as ongoing public opinion polls on topics of current interest.
"What's Happening" calendar of upcoming events (especially those of our advertisers), local weather information, plus breaking news photos and YouTube videos.
Editorial calendar alerting you of opportunities to send us news items at no charge relating to your industry.
Links to every digital version of the Beachcomber since January 2014 plus online searching of archived news stories.
Media kit, distribution map, demographics, PDF forms, Neighborhood Services Directory and other information that's easily printed or downloaded.
Doubling our audience of 120,000 readers in 39,000 print editions distributed to homes and businesses in East Long Beach and contiguous areas; accessible to 2.9 billion internet users worldwide.
Rates and specifications for both print and online ads, which may be purchased separately or in combination. Go to http://www.beachcomber.news/content/advertising or click on the website's "Advertise With Us" tab for details.
After the free offer has expired on January 31, 2017, online ads will cost 20 percent more than the cost of the print ads (which have been lowered 20 percent in 2017 to give you great added value).
E-commerce capability for ordering subscriptions, classified ads and display ads using PayPal, Visa, MasterCard, American Express or Discover.
Online ad sizes from large banners to small tiles – all in color – linked to your website.
Please give us a call at (562) 597-8000 if you have any questions regarding the above material. If you already work with John Tosdal, his direct line is (562) 673-8132; Dick Landau's is (562) 301-2173.
Thank you for your past support of the Beachcomber over the past 16 years.
Contact: Jay Beeler, Beeler & Associates, (562) 597-9000
CBS Studio Archives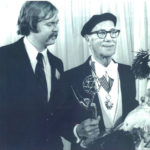 (Long Beach, Calif., Nov. 30, 2016) Long Beach Rotarians were regaled with a look at CBS Television's studio archives on Wednesday, Nov. 30, by Robert Haxby, director of Media Library and Program Archives. Haxby is a former Long Beach resident who graduated from CSULB's Radio/TV Department and went to work at CBS Television City's Beverly and Fairfax studios in 1974.
Haxby said that first attempts at recording live television shows were in 1949, using a 16 mm movie camera pointed at a television screen. In 1957 video came into popularity because Bing Crosby wanted to play golf and record his TV show at a more convenient time.
One of Haxby's first jobs at CBS 42-years ago was to hold up the "applause" sign for the Carol Burnett show, since audience members ignored the overhead version with their eyes peeled on the star. The following year the "best duty I ever had" was escorting Groucho Marx at the Emmy Awards broadcast.
"I wanted a picture with Groucho and he wanted the replica duck that was used on his 'You Bet Your Life' show. I climbed up the ladder and got the duck and then got my photo – a most cherished souvenir," Haxby said.
Later he started working in the video library, holding a variety of jobs that allowed meeting people whom he used to watch on TV when he was young. Eventually he became manager of the library, responsible for 900,000 pieces of film and videos.
"This is what makes our job fun … finding that needle in a haystack that brings satisfaction to the job," he said. Among the treasures was the only color video of an "I Love Lucy" performance that was filmed by an audience member who smuggled in an 8 mm movie camera. It featured three minutes of Lucy jumping through a ring of fire at the Tropicana.
Haxby said that he was not a fan of colorization, even though the company recently completed its third upgrade of I Love Lucy. "Colorization didn't matter due to the show's popularity. It doesn't make it funnier."
He told Rotarians that he was "Very proud of where I work and I love showing it off. 'You' are our client, since our job is to deliver audiences to advertisers."
###
Contact: Jay Beeler, Beeler & Associates, (562) 597-9000, LB Rotary Communications Director 2016-17 "Our 100th Year"
'Homeless Crisis'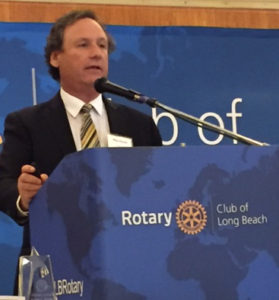 (Long Beach, Calif., Nov. 9, 2016) "There is a homeless crisis in LA County," according to Phil Ansell, director of the county's Homeless Initiative, in a luncheon address to Long Beach Rotarians on Nov. 9. He says that the county's annual homeless population averages 47,000.
As a county employee for 19 years, most recently as chief deputy director for public and social services, Ansell took on the homeless assignment last year. Working with county agencies, cities, community-based organizations and businesses, the Homeless Initiative has identified 47 draft strategies in six separate categories to resolve the problem. The categories focus on coordinated systems, subsidized housing, prevention, affordable housing, case management and increased income.
Mental illness comprises about 30 percent of the homeless population, according to Ansell, with job loss from the "great recession" another component.
Ansell said it would take $450 million annually to fix homelessness, not allowing for facility construction. County supervisors are considering a sales tax as one option for raising the necessary funds.
###
Contact: Jay Beeler, Beeler & Associates, (562) 597-9000, LB Rotary Communications Director 2016-17 "Our 100th Year"
---
Centennial Recognition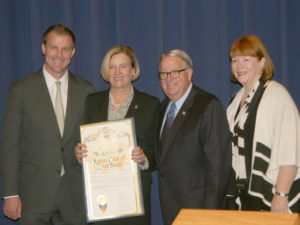 (Los Angeles, Calif., Oct. 25, 2016) The Rotary Club of Long Beach received a proclamation acknowledging its 100th anniversary from the Los Angeles County Board of Supervisors meeting in Los Angeles on Tuesday, Oct. 25. Rotary President Jayne Lastusky holds the proclamation presented by 4th District Supervisor Don Knabe. Also participating were incoming Rotary President Steve Keesal, left, and Centennial Chair Cam Killingsworth, right. Knabe will be the featured speaker at the Long Beach Rotary meeting next Wednesday, Nov. 2, aboard the Queen Mary as he closes 20 years of service to residents of the LA County 4th District.
###
Contact: Jay Beeler, Beeler & Associates, (562) 597-9000, LB Rotary Communications Director 2016-17 "Our 100th Year"
---
Lastusky Kicks Off Long Beach Rotary's 100th Year

(Long Beach, Calif., July 1, 2016) The Rotary Club of Long Beach inaugurated its hundredth new president this week, leading up to the club's celebration of their centennial year in January 2017. In addition to planning for the centennial, incoming President Jayne Lastusky intends to spend her presidency continuing the club's community service initiatives including local scholarships and service programs.
Lastusky, a former region vice president of the American Cancer Society, was one of the first four women to join Long Beach Rotary in 1987 when the club became open to both genders. In addition to her membership with Long Beach Rotary, Lastusky currently serves on the Long Beach City College Foundation Board of Governors and the Todd Cancer Institute Advisory Board.
Lastusky hopes that her experience leading the Los Angeles branch of the American Cancer Society will ease the transition into her role as president of one of the largest Rotary Clubs in California.
"I am humbled and proud to serve as the hundredth president," said Lastusky. "When I think of the transformational impact we have had both locally and globally, I am grateful to be part of a movement I know saves lives and makes a difference every day."
Long Beach Rotary, the 334th club inducted to Rotary International in 1917, is a service and leadership club which allows community professionals to collaborate on service projects, scholarship foundations and community events.
With approximately 320 members, Long Beach Rotary is the largest club in Rotary District 5320, which encompasses Orange County and Southeast Los Angeles County. As of 2014, Long Beach Rotary was ranked among the top 50 Rotary clubs in the world.
"Each Rotary club is part of Rotary International but selects their own community projects and activities according to the needs of their own community," according to Long Beach Rotary's website. "The object of Long Beach Rotary is to encourage and foster the ideal of service as a basis of worthy enterprise."
To highlight their centennial year, Long Beach Rotary will host a star-studded lineup of speakers during several of their weekly club meeting days over the coming year. The speaker series began with an informative talk by Los Angeles County Sheriff Jim McDonnell on Wednesday, July 6.
Long Beach Rotary's current and future leaders hope that their hundredth president and centennial year will illuminate the impact the club has had on the Long Beach community over the past century, and emphasize the club's commitment to their core values and goals.
"Together, Rotarians empower youth, improve health, promote peace and advance communities in all corners of the globe," said outgoing 2015-16 Long Beach Rotary President Greg Burnight, in a statement. "With 1.2 million members worldwide and counting, Rotary's global impact has never been greater – and it continues to grow."
###
Contact: Jay Beeler, Beeler & Associates, (562) 597-9000, LB Rotary Communications Director 2016-17 "Our 100th Year"